Social Metrics Tracker
An open source WordPress plugin See it WordPress.org
WordPress Plugin
PHPUnit Testing
Social APIs
What I did
I created a WordPress plugin which connects to the APIs of six different social networks to collect and report the number of times each post has been shared online.
The plugin was presented at the Higher Ed Web national conference in Buffalo NY in 2013, and is now in use by thousands of WordPress sites worldwide.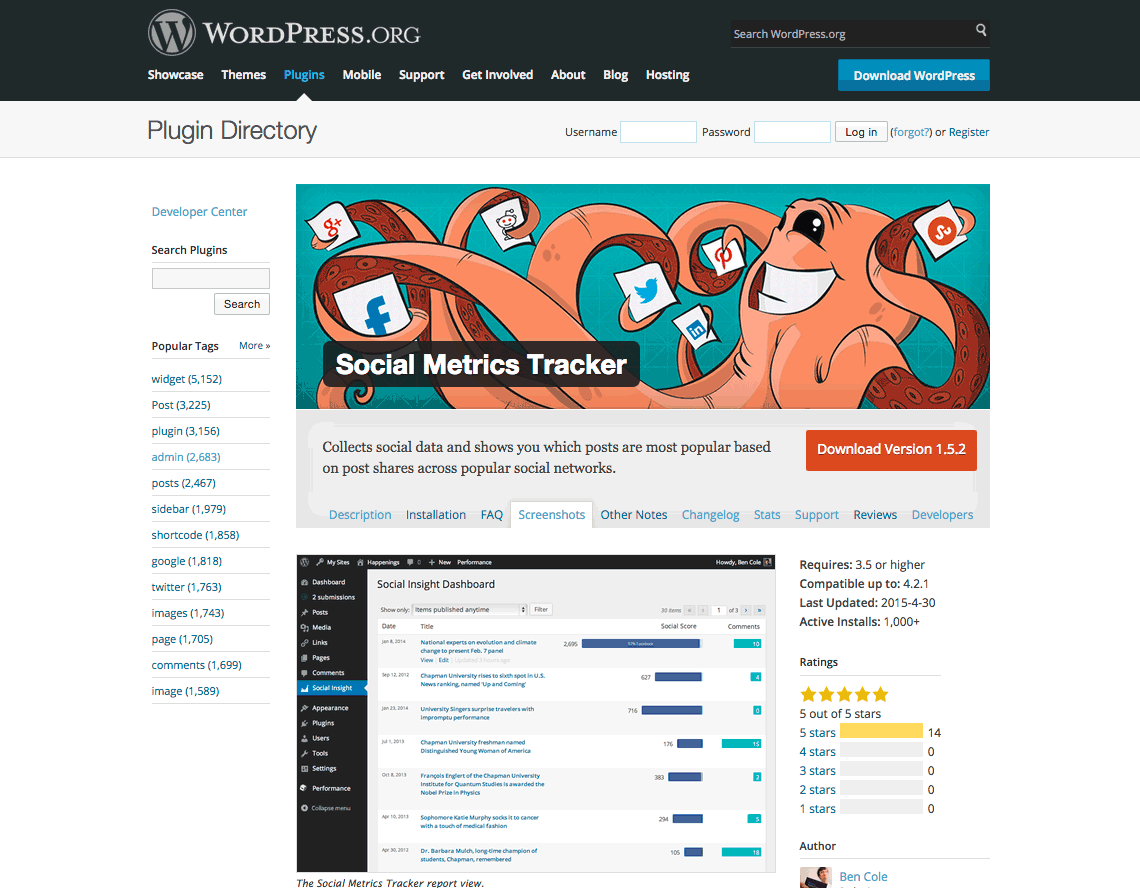 Technical considerations
The plugin makes use of the WP Cron to spread out API requests. It includes a PHP circuit breaker mechanism to detect problems with APIs, temporarily shut off requests, and retry after a specified amount of time.
Because social networks handle canonical URLs differently, the plugin can collect data from different protocols, subdomains, or alternate post URLs - then aggreate this data together for reporting.
The plugin uses action hooks and post custom fields in order to help other developers to extend or modify functionality in a clean, update-friendly way.
Code Samples
This is the circuit breaker mechanism which is used when making network requests.
  1
  2
  3
  4
  5
  6
  7
  8
  9
 10
 11
 12
 13
 14
 15
 16
 17
 18
 19
 20
 21
 22
 23
 24
 25
 26
 27
 28
 29
 30
 31
 32
 33
 34
 35
 36
 37
 38
 39
 40
 41
 42
 43
 44
 45
 46
 47
 48
 49
 50
 51
 52
 53
 54
 55
 56
 57
 58
 59
 60
 61
 62
 63
 64
 65
 66
 67
 68
 69
 70
 71
 72
 73
 74
 75
 76
 77
 78
 79
 80
 81
 82
 83
 84
 85
 86
 87
 88
 89
 90
 91
 92
 93
 94
 95
 96
 97
 98
 99
100
101
102
103
104
105
106
107
108
109
110
111
112
113
114
115
116
117
118
119
120
121
122
123
124
125

<?php




/***************************************************




* A circuit breaker helper which helps an application gracefully fall back




* when a remote service becomes unavailable. State persists between WordPress




* sessions by using the Transients API.




***************************************************/





class

 

WordPressCircuitBreaker

 

{


  
  

// Reset state if no activity for this period of time.


  

public

 

$persist_ttl

 

=

 

WEEK_IN_SECONDS

;

 

  

public

 

$identifier

 

=

 

''

;


  

private

 

$prefix

 

=

 

'smt_wpcb_'

;



  

public

 

function

 

__construct

(

$identifier

,

 

$options

 

=

 

null

)

 

{



    

$this

->

identifier

 

=

 

$identifier

;



    

$this

->

load

();



    

// Accept new options


    

if

 

(

$options

[

'max_failures'

])

 

$this

->

set

(

'max_failures'

,

 

$options

[

'max_failures'

]);


    

if

 

(

$options

[

'time_to_wait'

])

 

$this

->

set

(

'time_to_wait'

,

 

$options

[

'time_to_wait'

]);



    

// Defaults


    

if

 

(

!

$this

->

get

(

'max_failures'

))

 

$this

->

set

(

'max_failures'

,

 

3

);

 

// Failures to trigger offline status


    

if

 

(

!

$this

->

get

(

'time_to_wait'

))

 

$this

->

set

(

'time_to_wait'

,

 

3

 

*

 

HOUR_IN_SECONDS

);

 

// How long between checks of an offline service



  

}



  

/***************************************************




  * Allow connections through when the service is online,




  * as well as once in a while to check when a service is down.




  ***************************************************/


  

public

 

function

 

readyToConnect

()

 

{



    

// Not offline yet!


    

if

 

(

$this

->

get

(

'fail_count'

)

 

<

 

$this

->

get

(

'max_failures'

))

 

return

 

true

;



    

// Offline, check if we should allow one attempt


    

return

 

(

$this

->

getTime

()

 

>

 

(

$this

->

get

(

'last_query_time'

)

 

+

 

$this

->

get

(

'time_to_wait'

)));



  

}



  

/***************************************************




  * Get some useful information about the service status




  ***************************************************/


  

public

 

function

 

getStatusDetail

()

 

{


    

return

 

array

(


      

'working'

       

=>

 

$this

->

get

(

'fail_count'

)

 

==

 

0

,


      

'fail_count'

    

=>

 

$this

->

get

(

'fail_count'

),


      

'error_message'

 

=>

 

$this

->

get

(

'error_message'

),


      

'error_detail'

  

=>

 

$this

->

get

(

'error_detail'

),


      

'last_query_at'

 

=>

 

$this

->

get

(

'last_query_time'

),


      

'next_query_at'

 

=>

 

(

$this

->

readyToConnect

())

 

?

 

$this

->

getTime

()

 

:

 

$this

->

get

(

'last_query_time'

)

 

+

 

$this

->

get

(

'time_to_wait'

),


    

);


  

}



  

/***************************************************




  * Application should report each success




  ***************************************************/


  

public

 

function

 

reportSuccess

()

 

{


    

$this

->

set

(

'fail_count'

,

 

0

);


    

$this

->

set

(

'last_query_time'

,

 

$this

->

getTime

());



    

$this

->

save

();


  

}



  

/***************************************************




  * Application should report each failure




  ***************************************************/


  

public

 

function

 

reportFailure

(

$message

 

=

 

'An error occured, but no error message was reported.'

,

 

$detail

=

''

)

 

{


    

$this

->

set

(

'fail_count'

,

 

$this

->

get

(

'fail_count'

)

 

+

 

1

);


    

$this

->

set

(

'last_query_time'

,

 

$this

->

getTime

());


    

$this

->

set

(

'error_message'

,

 

$message

);


    

$this

->

set

(

'error_detail'

,

 

$detail

);



    

$this

->

save

();


  

}



  

/***************************************************




  * Get a value




  ***************************************************/


  

public

 

function

 

get

(

$key

)

 

{


    

return

 

isset

(

$this

->

data

[

$key

])

 

?

 

$this

->

data

[

$key

]

 

:

 

false

;


  

}



  

/***************************************************




  * Set a value




  ***************************************************/


  

private

 

function

 

set

(

$key

,

 

$val

)

 

{


    

$this

->

data

[

$key

]

 

=

 

$val

;


  

}



  

/***************************************************




  * Load saved state




  ***************************************************/


  

private

 

function

 

load

()

 

{


    

if

 

(

is_multisite

())

 

{


      

$this

->

data

 

=

 

get_site_transient

(

$this

->

prefix

 

.

 

$this

->

identifier

);


    

}

 

else

 

{


      

$this

->

data

 

=

 

get_transient

(

$this

->

prefix

 

.

 

$this

->

identifier

);


    

}


  

}



  

/***************************************************




  * Write current state




  ***************************************************/


  

private

 

function

 

save

()

 

{


    

if

 

(

is_multisite

())

 

{


      

set_site_transient

(

 

$this

->

prefix

 

.

 

$this

->

identifier

,

 

$this

->

data

,

 

$this

->

persist_ttl

 

);


    

}

 

else

 

{


      

set_transient

(

 

$this

->

prefix

 

.

 

$this

->

identifier

,

 

$this

->

data

,

 

$this

->

persist_ttl

 

);


    

}


  

}



  

/***************************************************




  * Get the current time




  ***************************************************/


  

public

 

function

 

getTime

()

 

{


    

return

 

current_time

(

 

'timestamp'

 

);


  

}




}




?>



Explore full source code on Github